This is a class that has been in planning for a long time. You see, we have to take a number of factors into account before we announce a class. The easy availability of all equipment, the easy transportation of final cake projects, the confidence that ALL students will be able to keep up with the teacher and produce a cake that makes them proud – all of these factors need to be kept in mind before we put a class together. And, of course, not all cake makers are good teachers. We have learned that lesson.
Which is why we are super excited about this Professional Wedding Cake Masterclass. It will be taught by Nazan Lewis.
Naz is a truly exceptional cake maker. We are very lucky that she lives locally in Greenwich and has designed this class exclusively for Fair Cake students. Here is the cake –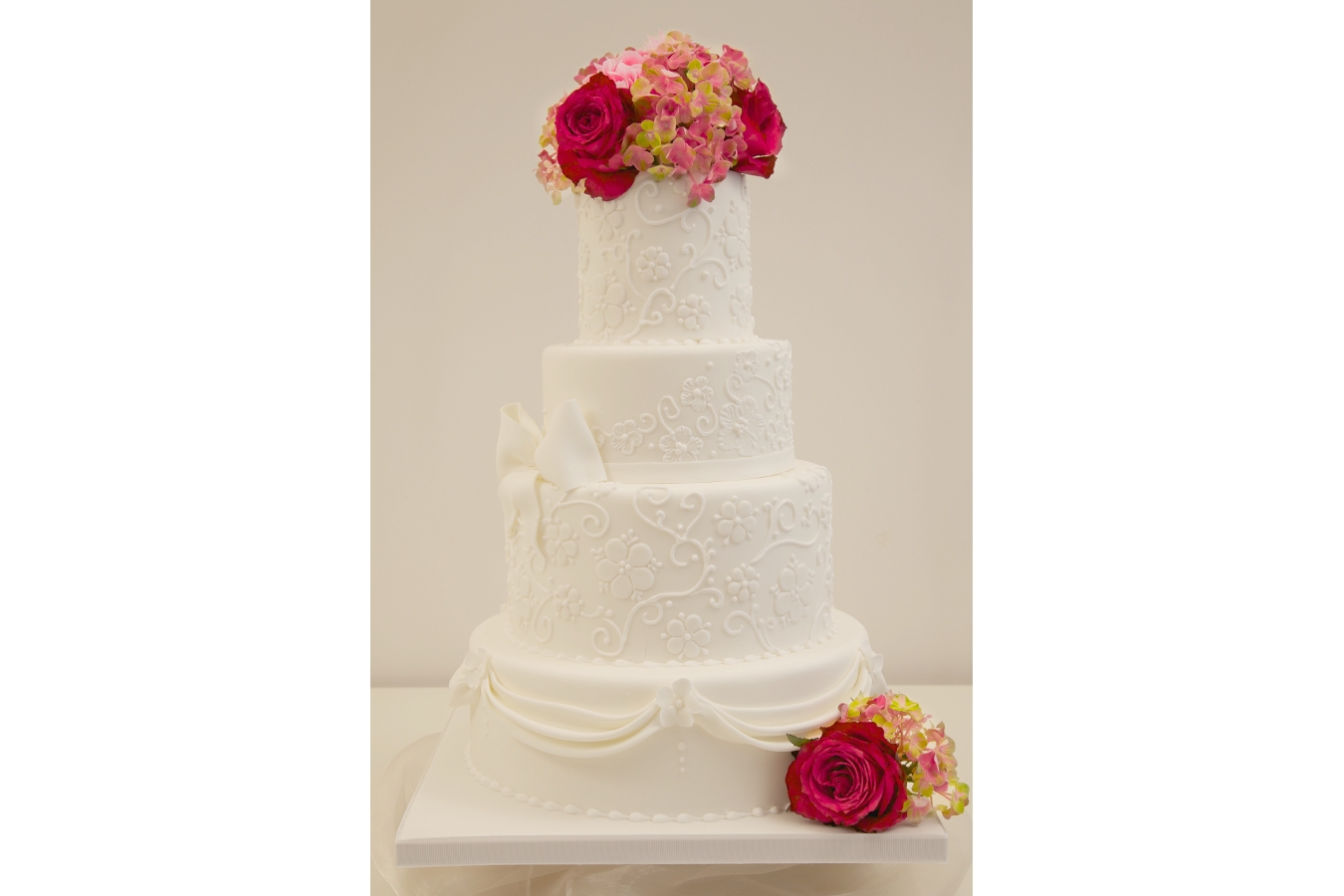 As you can see, a variety of different techniques have been packed onto this cake so that our students can make the most of this class. Naz will be teaching:
Royal Icing Piping (brush embroidery, freehand scrolls, piped borders, piped pearls)
Simple flower making
Covering the cake with sugar paste (fondant)
Making a realistic florist paste (gum paste) bow
Stacking and assembling the cake
Much more!
Here is a detailed view –
Most importantly, you will also be taught by a Professional Florist. In the final part of this class, you will learn how to work with fresh flowers, because sometimes you won't have the time to make sugar flowers (it is true, it really is). Working with fresh flowers is not as simple as it may seem, so our fantastic teacher, Mary, will take you through all the challenges you are likely to face with fresh flowers. Job done!
Interested in this class? You can either learn over three intensive days or seven intensive Tuesday evenings.