This time, last year, our workshop was in full chocolate mode. The lovely Natalie was churning out chocolate mud cake after chocolate mud cake from our four ovens. Chocolate smells were infusing every last bit of printer paper (not too bad a thing) in our office and a thin mist of flour and cocoa was everywhere. This is because Sharon Wee was coming from Sydney, Australia, to teach three of her now-famous classes. Sharon insists on using high quality mud cakes and Natalie had the task of baking just under 100 chocolate mud cakes in a week. All that hard work paid off in Sharon's classes when students ended up learning just why these mud cakes are so important an element in getting a great looking cake –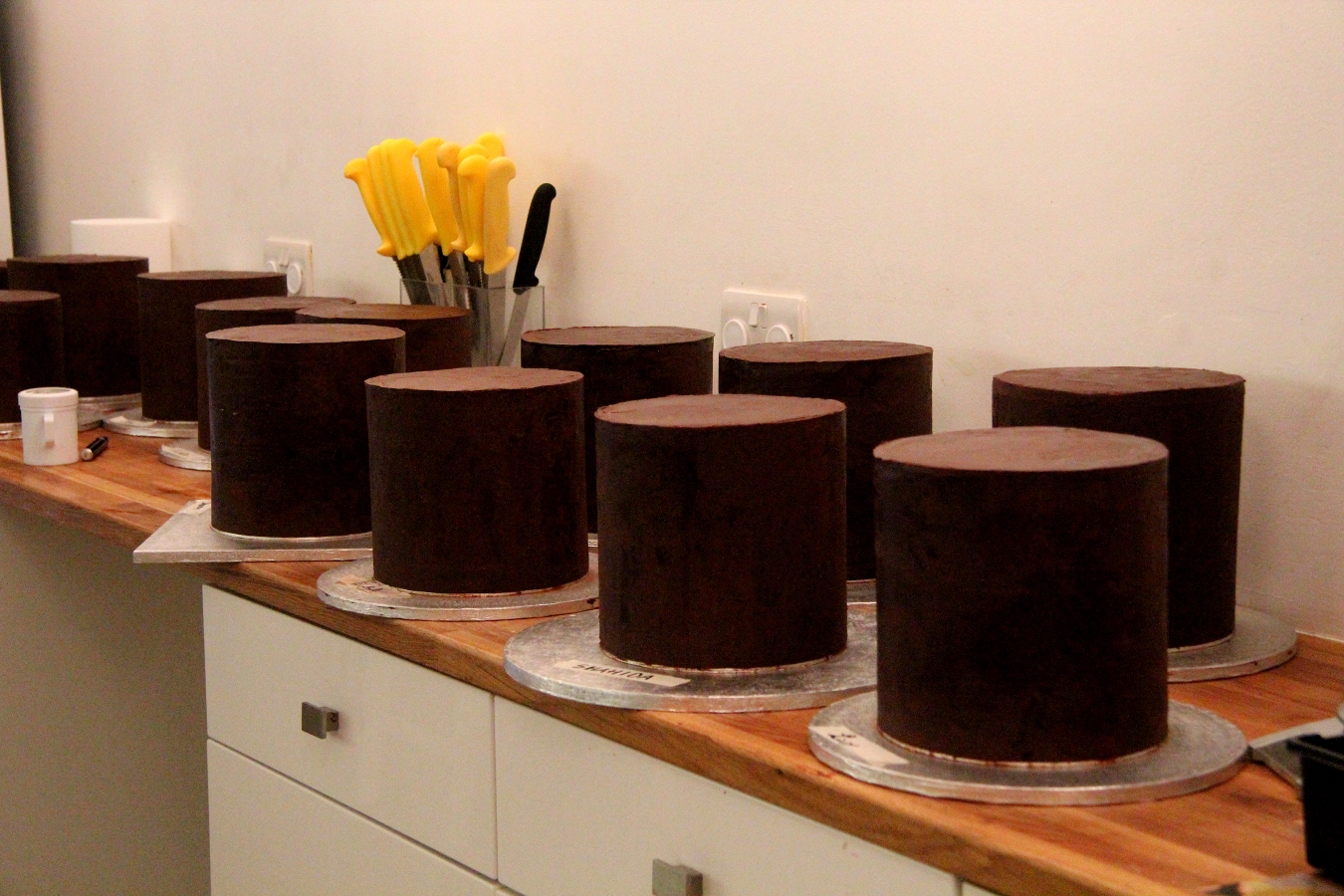 Students came from all over the world to attend her classes, including all the way from Malaysia. And, of course, a great cake base makes for a great looking cake! Here are some of Sharon's students from her Extended Tier Cake Class, super proud of their cakes –
So I sat down with Sharon, both on computers (you understand) and different sides of the world and asked her the same questions that I ask our other teachers. I think its a good idea to ask the same questions, you are always surprised that you get such different answers! Here is why Sharon is such an amazing creative businesswoman –
Q: When did you first become interested in cake making?
A: I have always liked sweet things, baking and art, but I stumbled into cake decorating almost by accident. I had just started my first job out of university and was looking for a hobby because I didn't enjoy it very much. I saw a cake decorating class in a local community college so I thought I would give it a try. I loved it! And this is how I pretty much started. My friends and family then convinced me that I should start selling my cakes so I started my cake business while I was still working full time. Then driven by my passion for cakes and sugar art I decided to quit my job almost three years ago and I now work on my cake business full time.
Q: How would you describe your cake decorating style?
A: I love anything cute, fun or whimsy. I always like to add a little bit of colour or cuteness in my creations. Although I don't make many, I think I enjoy kids' cakes the most. They most reflect my style so it's easy for me to come up with designs and execute them.
Q: What are your favourite flavours in cake and buttercream?
A: My chocolate mud cake with milk chocolate earl grey tea and cookies ganache is my best seller (cookies and tea with the earl) in winter and during summer it's definitely the summer on the beach – a lemon and lime cake with white chocolate vanilla bean ganache. Aside from those, red velvet, coconut, and orange and almond is also a crowd favourite. I don't do a lot of buttercream cakes, if I do use buttercream it would be swiss meringue base buttercream.
Time for a quick break from the interview and mention that if you come to Sharon's classes, you get to take home the now-famous Chocolate Mud Cake Recipe! And you get to learn to make a cake as gorgeous as this one. Shameless plug over.
Whale and Iceberg Cake Class
Onwards with the interview. Hold on, there is something important to tell. Sharon recently started a Kickstarter campaign to raise funds to self publish her first book. Did I mention that the woman is a cake powerhouse? Not only did she raise enough money, she raised more than DOUBLE than she set out for!
Well, with cakes like these, who wouldn't want to back her venture? We are super proud to be the only cake school in the UK that she teaches at!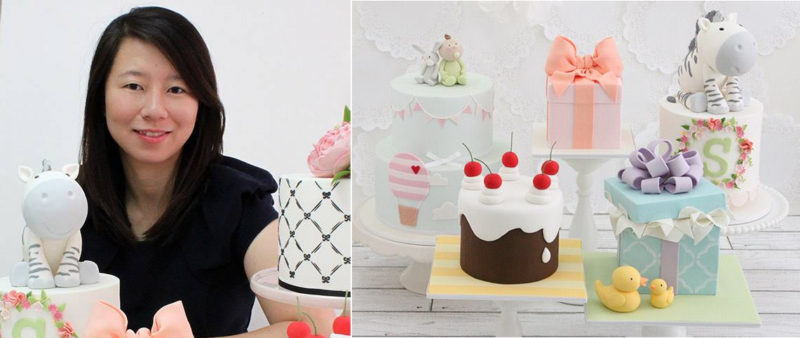 Right, back to the interview, I keep getting distracted, there is too much to tell!
Q: Where do you get your colour/design inspirations from?
A: I think I always like to add a little bit of colour or cuteness in my creations. I am attracted to pastel colours too, so I think my designs tend to reflect all that. Through bright flowers, leaves or even figurines I hope to express a little of my client's personality on each cake. If given free reign, I always try and encourage my clients to do something a little different on the cake. The wedding day or birthday is all about them, so why not have a cake that reflects that too?
Q: Where did you learn how to decorate cakes?
A: I started out taking a few classes at the local community college that offers cake decorating classes. From there I learnt new skills, some from other great cake artists around the world and some from tips I read online.
Q: What do you find most enjoyable about teaching students?
Meeting new people or people who genuinely share a similar passion for cake decorating as I do. Exchanging of ideas and hearing their feedback and also seeing what they have achieved after taking one or a few of my classes. It's kind of rewarding that I can help them along in their cake decorating journey.
Q: Where do you find the time to fit in new projects with your existing schedule?
A: I am a procrastinator. I love dreaming of ideas but I don't actually get to work unless there is a deadline pushing me to do it. It's a bad habit and I am trying to get rid of it, but somehow I find I am most productive only when I am under pressure.I am always on the look out for new ideas for my next project. I love what I do, which is think is what drives me each day. Even when I am not feeling well or when I am on holidays I am still dreaming of what I can create next. So I guess I just try and fit in anything new whenever I find myself having some free time 🙂
Q: What would be the one piece of advice you would give to someone considering giving it all up to start a cake business?
A: Never be afraid to try, it's ok to fail, learn from every project you do and dream big!
Sharon is teaching three classes at Fair Cake this year.
Whale and Iceberg Cake – enveloped with that cuteness that Sharon is famous for! (see picture above)
Square Striped Ganache Cake with Monogram – all about technique!
And, by super popular demand, for the final time in London, her unique take on the Extended Tier Cake – here are some students' cakes from last year's class, ALL with great finishes!