This is a blogpost that I have been meaning to write for some time. In late 2012, Jess and I designed this class for students who wanted a crash course in cake making and decorating. Our Techniques Masterclass is an intensive five day cake marathon!
Here is feedback that we received today about the Masterclass that was held last week, this just made our day!
"Many thanks for wonderful classes last week, I really enjoyed myself and feel far more confident to tackle larger cakes now.  I wish I didn't have to go back to 'the day job' this week so that I could sit and practice making more flowers!
Pamela was really inspiring and again everyone walked out with a finished cake and the confidence and skills to make another and adapt to their own needs.
I have attended classes with other well known London providers, but Fair Cake is indeed the best both in terms of venue (space, comfort), teachers, and value for money as well as that hard to define 'something' that just makes you feel at home and at ease right away which means you learn so much more and gain confidence that you really will be able to recreate what you have learnt at home." – Susan
This testimonial pretty much sums up what we try and achieve with our Masterclasses. We ensure that all students, no matter what their skill level, go home with new ideas and inspiration and, most importantly, the confidence to recreate complicated designs at home.
Here is just a small sample of students learn at our Techniques Masterclass:
They have an amazing day with Pamela McCaffrey, an inspirational cake maker who is taking the cake world by storm with her new crisp designs and elegant colour schemes. This is Pamela with her students and their creations:
Here is a closeup of this exquisite Present Wrapped Cake.  Pamela also teaches this cake in a one day class.
Over two days of the Masterclass, students learn to make a two tier cake with wired flowers. Here are the results from last week's class: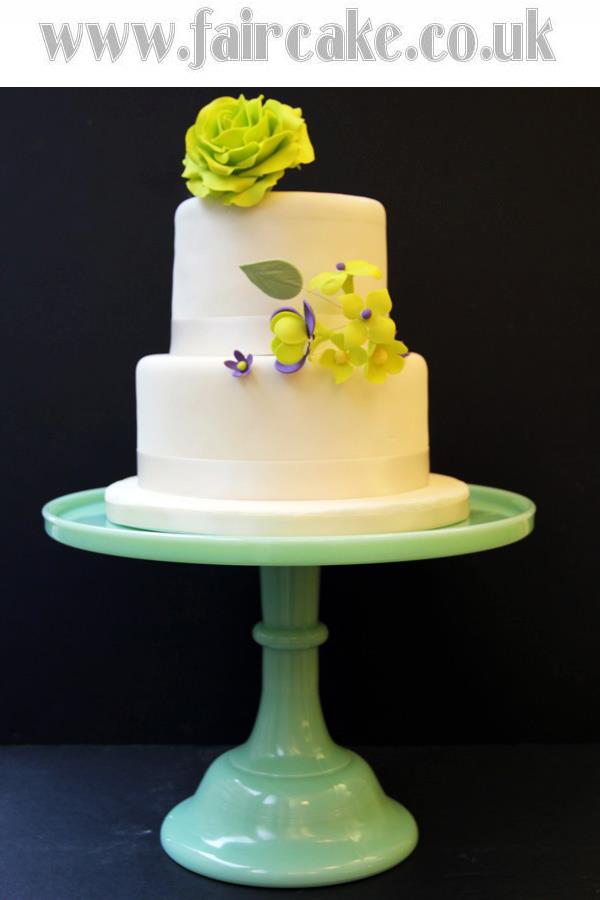 Students learn how to make a large rose, smaller wired flowers, stacking and dowelling cakes, covering cake boards and lessons in how to achieve that all important professional finish.
Students also learn how to bake and decorate cupcakes, beautifully! Here are some images of the kind of cupcakes produced at this class. Students learn how to flat top cupcakes (see below) and then make decorations and buttercream swirls to make their cupcakes a bit like this –
Here are some cupcakes made by a student:
Students also learn how to make perfect little fondant tops on cupcakes, a bit like this:
Students learn how to use Royal Icing to pipe simple patterns and designs.
There is MUCH MORE to be learned in this class! Students also learn how to bake and decorate cookies, have all their questions about baking answered, learn all about handling florist paste, fondant, cookie dough and cake batter, cake storage, turning hobbies into businesses and, of course, all the Fair Cake tricks of the trade!
If you are interested in this class, please go to the following link for all dates and prices:
FAIR CAKE TECHNIQUES MASTERCLASS
Or call + 44 208 305 1756 and speak to Jess or Natalie.