What is flower paste/florist paste/ gum paste?
Florist paste (also called Flower Paste) is a slab of edible thick play-dough like substance made out of very fine sugar and additives. You will find it in almost all cake decorators' cupboard. Why? Because it is used to make the most fundamental decorative additions to a cake or cupcake, such as an elegant rose – or anything other decoration that needs to get a fine and realistic finish. In America and Canada, you will find an edible product called Gum paste, this is very similar to Florist Paste. I know of a number of American and Canadian cake makers who prefer to use Squires Kitchen Florist Paste, rather than gum paste because it is easier to mould into fine shapes. Florist paste also sets very quickly, making it easy to layer. Perfect for multiple layers of rose petals.
Here are some cupcake toppers that we made using florist paste and food colours.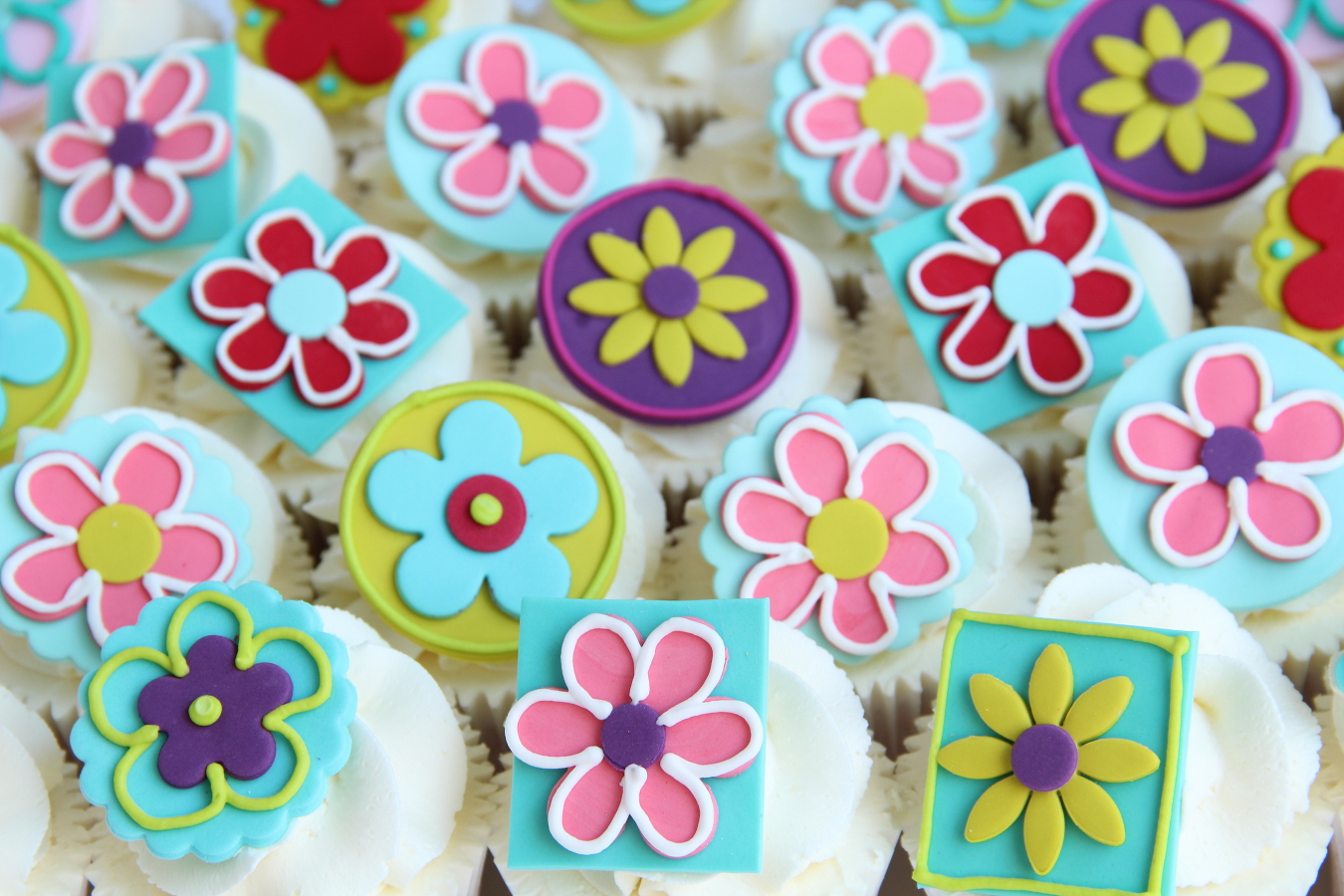 This is our current favourite brand of florist paste, Squires Kitchen:
How is florist paste different from Sugar paste?
Florist paste is completely different from sugar paste! Sugar paste is another name for fondant. It is also called Ready to Roll Royal Icing or simply Icing. Sugar paste is the covering on a Christmas cake or a wedding cake – the final layer on a cake that remains soft for months. Florist paste will become brittle and sets hard in minutes. Florist paste is perfect for making edible sugar flowers – you simply roll it out thinly on a non-stick rolling board with a non-stick rolling pin and cut away. Sugar paste cannot be rolled out as thinly as florist paste. Nor will it hold its shape as well. If you really wish to see the difference, set aside an afternoon of experimenting!
What's Florist Paste made of?
Florist paste is made from natural gum, fat, sugar and egg whites. Much like sugar paste, is perfectly safe to eat. Although whether or not you would like to eat an exquisite looking handmade rose is entirely your decision!
How do I use it?
To use florist paste, remove the required amount from the package and knead well (at this stage you can add a touch of concentrated colour paste) before rolling using a non-stick board and rolling pin to thinly roll the paste out. TOP TIP: Adding a tiny bit of vegetable fat (we like to use Trex) to florist paste will make it much more pliable and generally more easy to work with.
Florist paste is also crucial for tappit cutters anything else will not work because no other paste rolls out quite as thin.
To make a simple flower, roll the paste 1mm thick and firmly press the cutter into it – metal cutters will give a cleaner finish. Transfer the flower to a foam pad and rub in circular motion a couple of times to remove rough edges. Poke the flower out of the cutter with a paint brush and let dry! Here are some roses we made at the workshop making florist paste: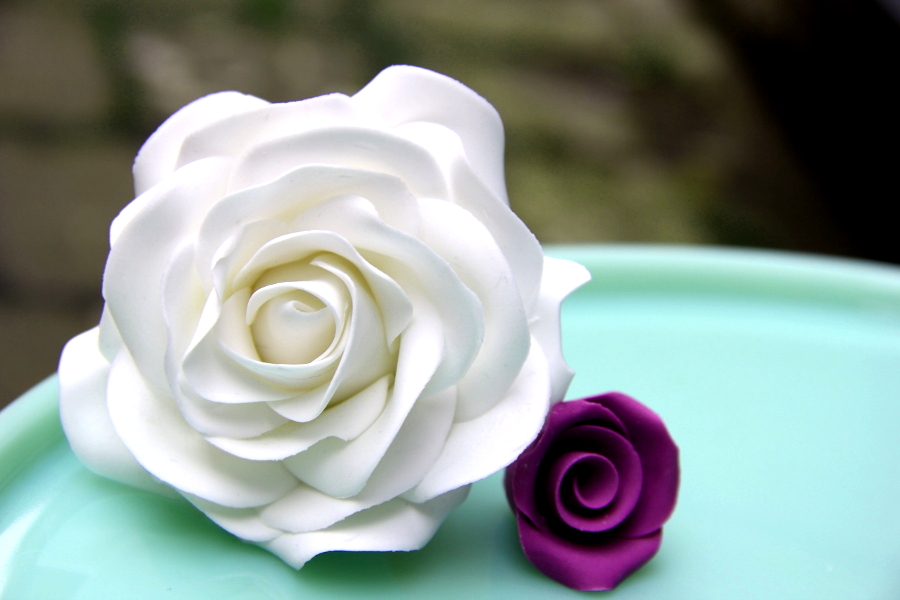 How do I store it?
As a hard setting product, it is very important to store the paste in a closed bag with no trapped air inside. Ensure that you use good quality plastic sandwich bags to store unused paste in. Do not use cling film, your paste will dry out within hours. Just the smallest bit of air and florist paste will crust at the corners!
Do not store your finished decorations in an airtight container unless you have just taken an order for a floppy and wet rose cake. Instead, store your florist paste masterpieces where the air can circulate – in a cardboard box with plenty of tissue paper to cushion your flowers. Always allow florist paste decorations to dry thoroughly before storing for any length of time. Humidity will be your worst enemy, save your flowers from it!