I am super pleased to write about the latest teacher to join our awesome tutor r team – Ms. Trina Thomson of Sweet Ruby Cakes, Brisbane, Australia. Why, you ask, am I addressing her as "Ms.", when I am sans any formality elsewhere on this site. Well, you simply have to see a picture of her work before the respect automatically begins to build up. Let's start with this, shall we?
Meet Ruby and her kitty, Ghost. Ruby and the Ghost. I am not even sure where to start. This cake is far too awesome to say anything. I would like to point it that it ain't easy (at all) to sculpt a face and then make it look pretty and interesting. I have seen several cakes where facial expressions ensure that people politely look away from a cake. But this cake! Goodness! I am assured another picture of this design and I cannot wait to see it! I am blown away by the cheekiness of Ruby!
Trina recently taught her lucky London students (including some who came all the way from Europe!) how to make Ruby. The results were amazing and have their own dedicated blog post, here. Trina is teaching this class again at Fair Cake in 2015, for more details, go to:
London Class
Dublin, Ireland Class
Let us go on to this cake: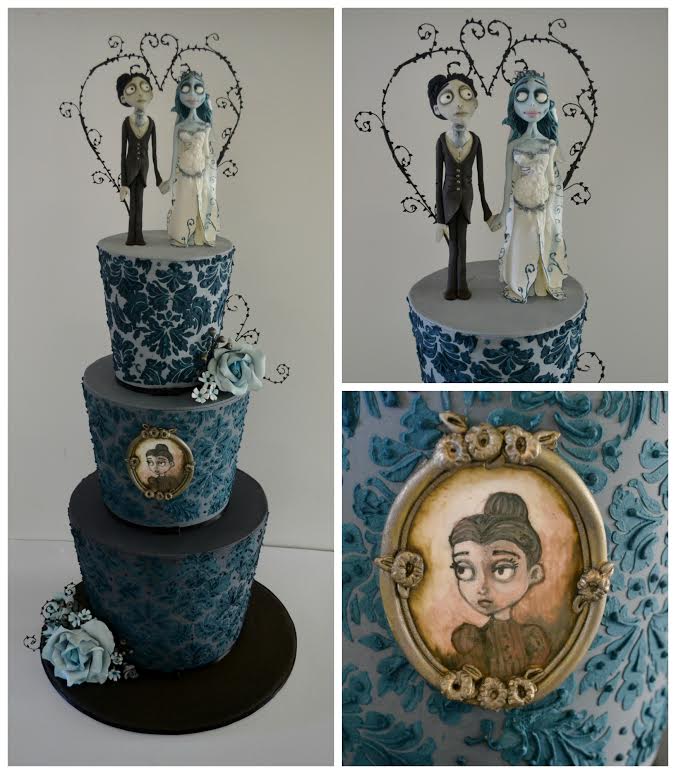 The cake, as you can see, borrows heavily from a particular film director's work. I will not be naming names because I do not wish to get into murky copyright issues, but heavens – is this stunning work or what?
Before I go on, let me start this interview with Trina, you can see for yourself why she is so well respected in the industry – she takes cakes and cake decorating seriously!
Q: When did you first become interested in cake making?
A: I remember as a kid, baking chocolate cakes with chocolate butter icing and doing swirly patterns on the top with a fork and thinking it was the bee's knees. But it wasn't until I took time off with a new baby that I spent a lot of time online, looking at pictures of beautiful cakes, studying cake artists. Then I bought a Debbie Brown book and started offering cheap cakes to people so I could practise. That led to putting up a little photo copied sign in the local grocery shop and by then it was too late to stop. I was hooked.
Q: How would you describe your cake decorating style?
A: Illustrative. It has to have a little character, whether it's humour or romance. And 'organic' is a nice way people have described my work, which I think means quite imaginative and not too formal. The most important thing is to get lost in the story and for people to realise it is entirely possible to fall completely in love with a cake.
Q: What are your favourite flavours in cake and buttercream?
A: My partner is a pastry chef so he inspires me to think outside of the ordinary. I made an opera cake a while back, using an original French recipe and it was so amazing, it made me wonder if you could take famous desserts, deconstruct them and turn them into cakes. So at the moment, the fave is 'cake opera'. White chocolate and almond cake with a mocha buttercream, chocolate crisp layers, coffee essence syrup and a chocolate ganache topping. Heaven.
Q: Where do you get your colour/design inspirations from?
A: Fabric, wallpaper, flowers, paintings. Inspiration is everywhere. Children's picture books are a huge source of inspiration because a lot of illustrators are masters at design, colour and composition. And if I open a much loved page on Pinterest, I nearly have a heart attack with the sheer joy of all the colours. It should be compulsory to surround yourself with beautiful things on a daily basis, even if they are completely useless! The combination of food and creativity is also very exciting.. when you look at something and it is like a little piece of art on a plate but you can put it on your tongue and devour it as well. That is pretty special.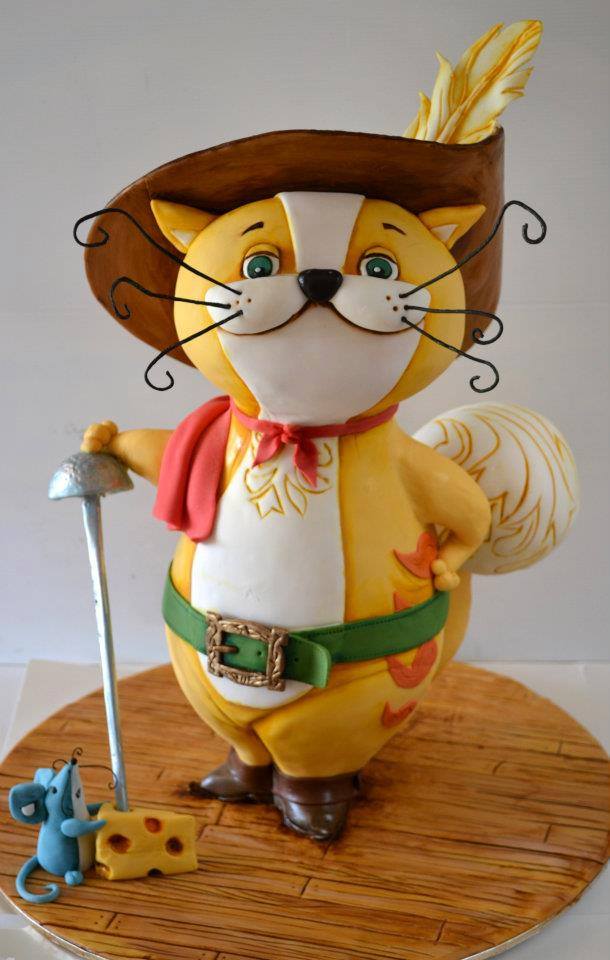 Q:Where did you learn how to decorate cakes?
A: From books mostly, trial and error (lots of error). Then I started to spend all my money at Planet Cake, ( a well-known cake decorating school in Australia) being surrounded by people who loved cake artistry too, and soaking up new techniques. My background is in fine arts and illustration, and I realised that a lot of the techniques I learnt at art school could be applied directly to cake. The design principles were the same and so were a lot of the tools. So all those years hanging out at the college café drinking coffee paid off.
Q: What do you find most enjoyable about teaching students?
A: That moment when they are completely absorbed in a cake project and you can see they have gone past my teaching moment and have discovered their own creativity and originality. You can almost see it appear in the room. Eyes start sparkling and there is lots of smiling. It's like finding something inside yourself that you forgot existed and it is such an honour to be able to create a space where people can find that, even if it is just for a few hours.
Q: Where do you find the time to fit in new projects with your existing schedule?
A: At some point you just have to commit to the projects you are most excited about and shelve the rest for a while. I have a book of sketches, so sometimes I sit down and go back over them and whisper softly.." Hmm, you are an interesting little cake but it's not your time yet."
Q: What would be the one piece of advice you would give to someone considering giving it all up to start a cake business?
A: Part of me wants to say, do it. Just throw yourself in and get wild, get busy, never give up. But the sensible pants side says.. Every spare chance you get, practise and experiment and collect design ideas and find your 'thing.' And if after one or two years, you are still lying awake at night visualising cake designs, give it all up and start a cake business. A very supportive family helps a lot. A sugar daddy would probably be helpful, but not vital. And keep playing and pushing till you find the thing that makes your heart sing.
A very cool artist by the name of Mark Ryden said,
"I believe if you follow your heart and do what you love, success will follow. If you enchant yourself, others will be enchanted too."
Trina is teaching the following classes in 2015:
London: Ruby and the Ghost 11th, 12th, 13th April 2015
Dublin: Ruby and the Ghost 18th, 19th, 20th April 2015