We are very (very) lucky to have Pamela McCaffrey as a guest teacher at Fair Cake. Not only are Pamela's designs absolutely stunning and gorgeous to look at, her teaching style and amazing personality leaves students inspired and ready to take on the cake world!
Pamela will be teaching Day 5 of our Complete Cake Techniques Masterclass as well as this gorgeous Festive Christmas Cake Class on December 6th 2014. We are also working with Pamela to bring a new one day class, watch this space!
This is the second instalment of my Getting To Know You series, an interview with Pamela McCaffrey.
Pamela has also designed this absolutely stunning Ruffles Cake Class to be taught on Saturday, 21st February 2015. Pamela demonstrated how to make her signature fondant ruffles at the Cake and Bake Show 2013, on Fair Cake's behalf. Such was the demand for her demonstrations, that she has finally given in to teaching a class with us.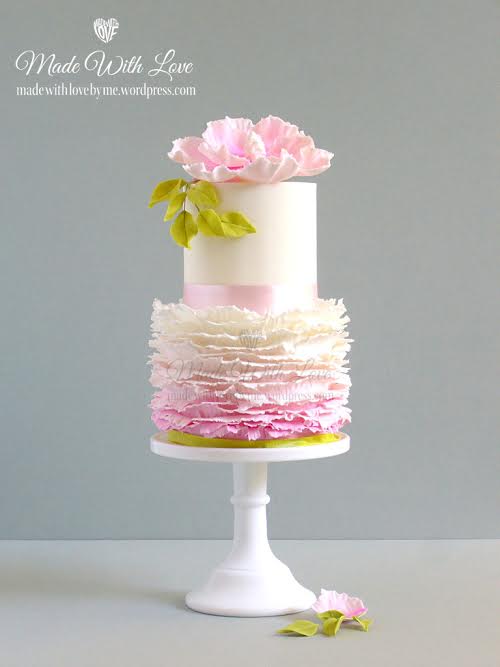 When did you first become interested in cake making?
I first made cakes with my mother when I was small, she enjoyed cooking and always impressed on me that food should not only taste good but should also be well presented. I have always liked cooking and baking and love making birthday cakes etc. for my family.
How would you describe your cake decorating style?
I think that my style is clean, pretty and modern but romantic, at least that is what I strive for. I love flower work and always try to be original.
What are your favourite flavours in cake and buttercream?
I have to say that I am a chocoholic so that is always to the fore but lemon might come a close second, honestly I like everything, I am very easy to please and can't think of a cake that I would say "no" to!
Where do you get your colour inspirations from?
I have always been artistic – I originally studied art and design at Central St. Martins – so I am very comfortable with colours and am used to inspiration coming from anywhere: a flower, a painting, even the colour of Djokovic's shirt at the French Open! I love pale but clear colours and muted colours, "off" colours as I call them, and I suppose the preference in my home and my clothes follows on into my cakes, or maybe vice versa!
What is the most elaborate cake you have ever made?
I don't tend to make over elaborate cakes, a wedding cake that I made in the mid nineties as a present for the daughter of a dear friend was my most elaborate but fashion has changed and I suppose that of recent cakes my Rose Trellis Cake is one of the more elaborate. It was particularly tricky because all of the flowers and leaves were wired and it was rather difficult to fix them on without sticking them into the cake.
Where did you learn how to decorate cakes?
I am totally self taught and have never had any lessons. I am one of those people who look at something and think, "I could do that" and then of course I have to prove it! I have many books and starting out I looked at as many cakes close up as I could. Just like with art, I tried to see how different people worked and then applied and modified those techniques as I developed my own style. If when I try something new it doesn't work first time I just keep trying. Patience is one of the top requirements I have found!
Editor's (ahem) note – these are pretty much the most beautiful roses made by someone who is entirely self taught, don't you think?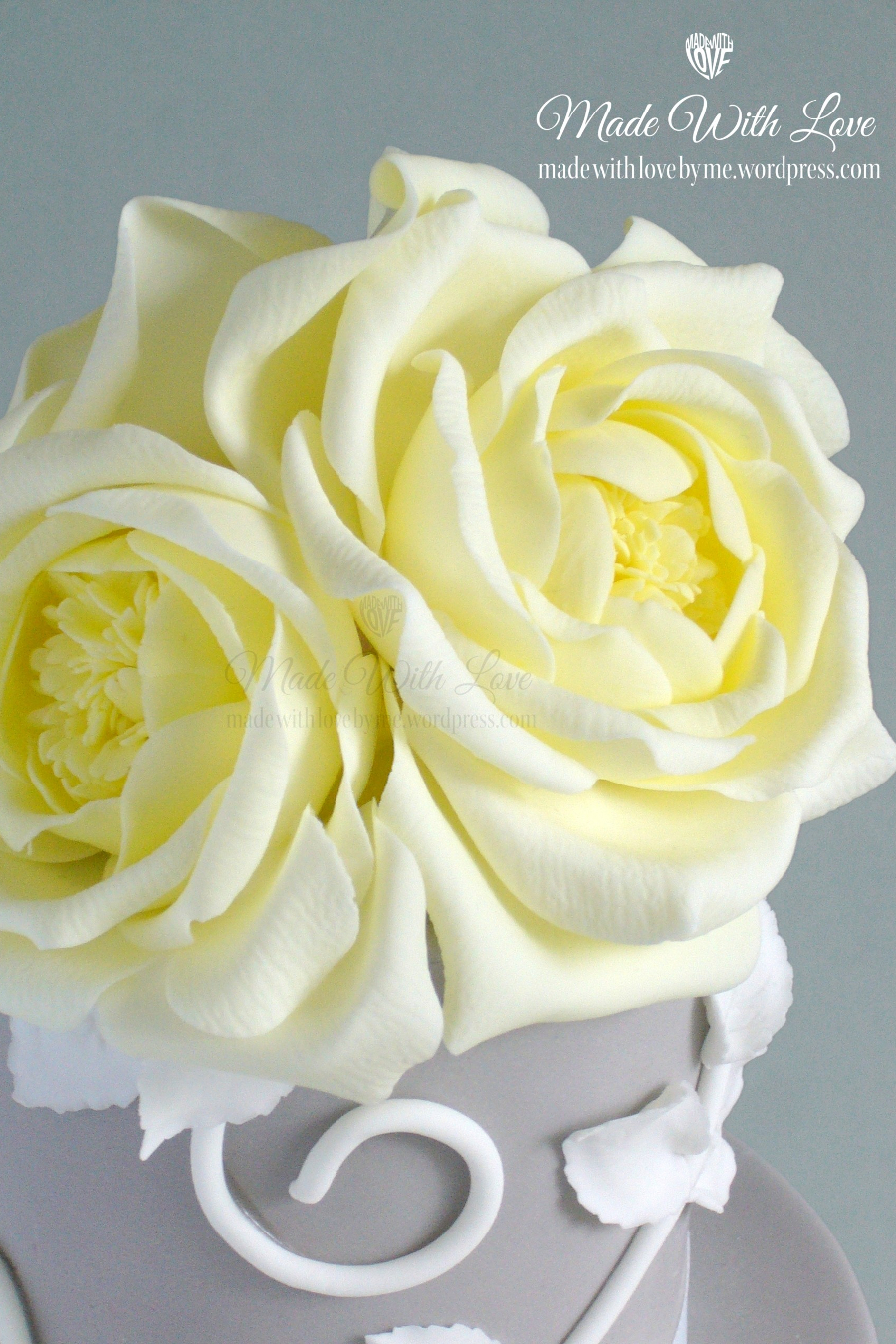 What do you find most enjoyable about teaching students?
I love the fact that I meet so many different people who are all in love with cake decorating and the joy and pride on their faces when they see how much they have achieved. It is nice to feel that I have had a hand in that. Having a lovely environment and friendly atmosphere in which to work helps too!
Editor's (ahem) note: Note how Pamela snuck in a lovely comment about our workshop! 
Here is Pamela with her students at the last Techniques Masterclass.
Pamela teaches a Present Wrapped Cake Class as part of our Techniques Masterclass as well as The Dessert Table Masterclass (see below). We are currently designing new classes with Pamela at Fair Cake, keep an eye on this website!
For more details about Pamela's work, please go to her blog, here. It is a stunningly beautiful blog with lots of cake pictures.