We like wedding cakes. We like looking at wedding cake pictures, discussing wedding cake design and oohing and aahing over delicate details. A cherry blossom wedding cake was high on our list to work on. Over the last few springs, we always came across gorgeous cherry blossom wedding cakes, so it was high time we made our own.
This was not an easy task, believe you me. Each little sugar cherry blossom has two layers, pretty stamen and is hand dusted to give it that unique look. Working on so many little sugar flowers can be a bit boring, let's be honest, so we drank plenty of tea to keep us going. We also played a lot of music. If you passed by our workshop recently and wondered what we were up to, this is it!
Here is the finished cake: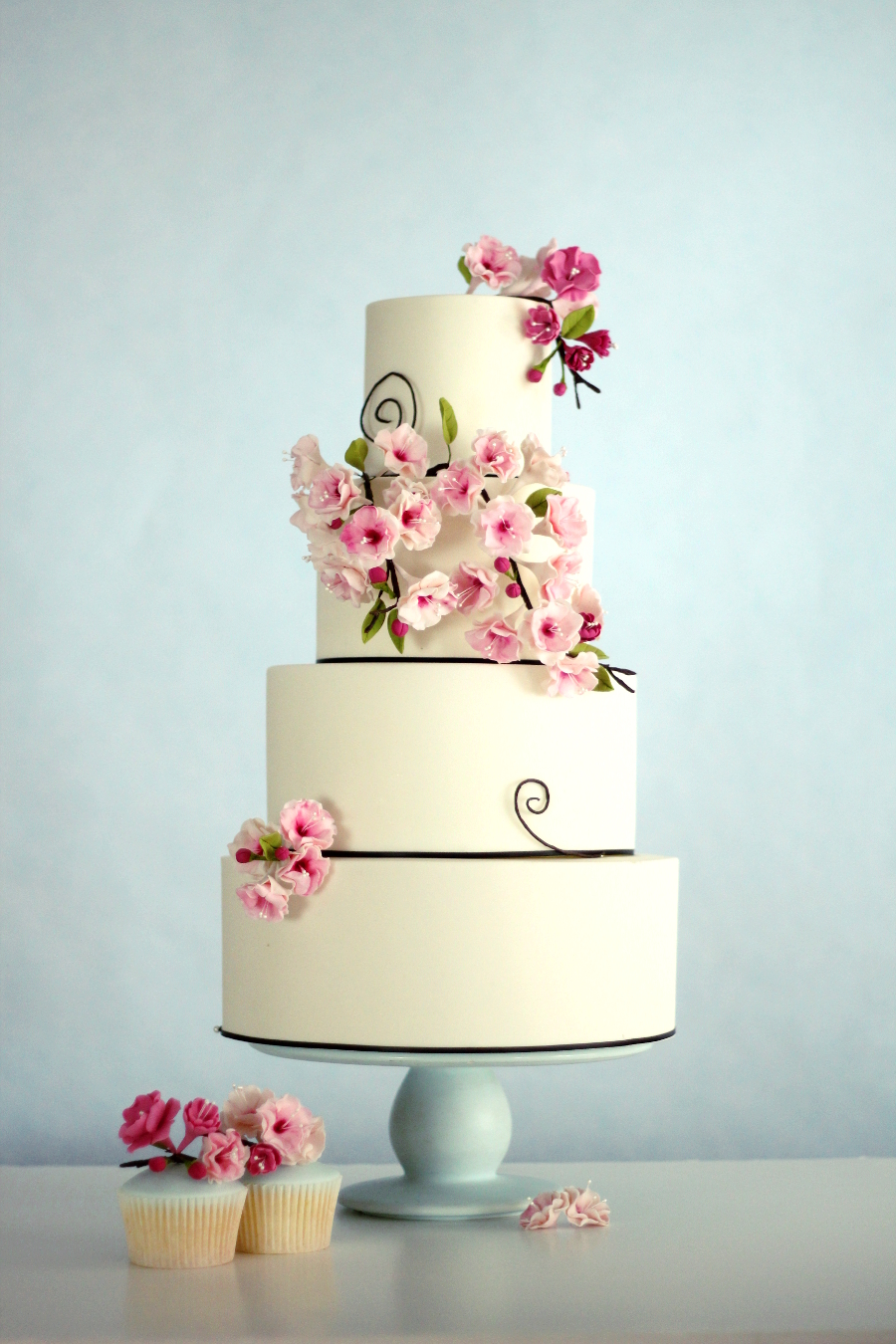 Even if we say so ourselves – is. this. not. sigh worthy?! We have fallen in love with our own cake! Instead of placing blossom all over the cake, we choose to focus on one tier. Given that we are cake design geeks, and we know a little something of cupcakes, we could not resist decorating fondant cupcakes with blossom.
Here is a detail shot of cherry blossom:
Each blossom was dried overnight before we could work further with it. Our hands were pink and a little bit numb, but we enjoyed ourselves!
Fancy recreating this cake at home? We will include all the elements in our Tiered Wedding Cakes Class. Much else to learn in this class! We will teach how to work with chocolate ganache, sponge cakes, cake dummies, making sugar flowers (including cherry blossom), large roses, large magnolia, leaves, extended tiers and much, much more! Call us on 0208 305 1756 to book your place or book online, here.